Hi! Rue is doing great! We have been loving her and spoiling her. She is the best puppy I have ever had. She is potty trained and hasn't has any accidents in the kitchen, the house, or even her sleeping kennel. She is so sweet and perfect! We have decided to have her official name be Rue Merida Johnson. The students in my class have really enjoyed seeing her photos and hearing Rue stories. The boys even put a Halloween costume on her for a little while :) Thank you for precious Rue!

Jennifer Johnson
Hello Kelly:
We just put Dove (aka Deena) to bed. She proved to be an excellent traveler, never carsick, no whining, and no accidents! She was perfect in the hotel room, a very quiet roommate who awoke at 5:00 ready to go, but took a good nap right after. We love her to pieces and think she is the most gorgeous collie on earth. That didn't take long! I'm sure she misses her home and siblings, but is so happy-go-lucky, she seems to be glad about everything. What a great dog!
We'll keep you posted from time to time about her progress. She will do Cyndella proud.
Best,
Joan and Maddy (and Dove) Woodward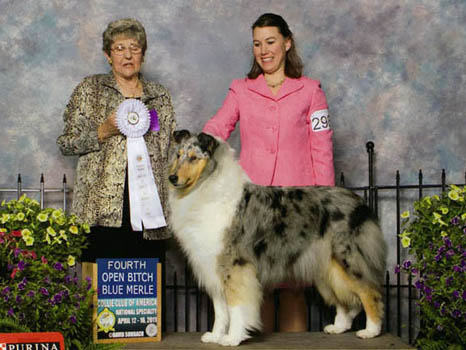 Kelly,

I don't know where to begin...Do I start with thanking you for parting with one of your best? Or do I mention that everything you said about Madison was true? You can imagine my feelings of elation when Greg arrived home with Madison earlier this month after his journey from NC to Colorado, her pictures definitely do *not* do her justice. Not only is she a beautiful, healthy Champion, who is impeccably behaved, and has a temperament that should be bottled and sold, but she is also a loving, intelligent companion that we are so blessed to be able to share our home and hearts with!

We eagerly await her new coat to come back in this Fall so we can enter her at the local AKC conformation shows with the ultimate goal of earning her "Grand Championship". We are so fortunate to have the best of both worlds, not only a finished Champion, who will be a delight to exhibit, (and who by the way, is in love with her new owner-handler, Greg -- mind you, the feeling is mutual!), but also an amazing, playful Collie who has adjusted to our home and family as if she has lived with us all her life.

One simply can't ask for anything more...
Thank you for entrusting Maddie to us and for your willingness to share this special Collie. We love her dearly and are so happy you have allowed "CH Cyndella's Miss July" to take up residence in her new 'forever home' here at 'Doe Run' in North Carolina.
Robin Ungano (Doe Run Collies)
Hi Kelly,

Thank you for this beautiful, sweet little girl who has captured all our hearts. She slept most of the way home. We stopped at PetSmart and got some bullychews and a small collar and leash. We have bigger ones but nothing to work with her while she is small. She was quite a hit in there and very good even when we met some small horses (danes almost as tall as me). She got lots of holding and spoiling right off the bat (LOL) -Brent adores her. I worked tonight and guess from all reports she did fantastic with everyone in my absense. She is sleeping in her crate in our room. We had her in the crate in the kitchen with the door open all evening so she could come in and go out at will. We fixed her a large plastic storage box of shavings and she doodled in it. She's gone pee outside twice, ate well and drank a fair amount of water when we got home. I actually fed her a bit of the dry food, broken up into small pieces on the way home. She seemed to like that. So that's the update on today. I think she will adapt pretty quickly, she's smart and very attentive. Keep us updated on Justin and Sabrina (pictures too). Will send some along in a day or so of Ayla. Talk to you soon.

Rebecca Elzinga
I can't believe how smart she is, she already has partially learned a few commands, she slept very well last night. I will have to say that her new best friend is my 3 year old black cat Nefertiti. The cat loves the other Collie, Idril, but hugs and rubs all over Rhona. Rhona followed her into the laundry room where we keep the cat food on top of the dyrer, the cat saw her and stopped eating to hang her head down to touch noses. Rhonna really likes her too! I have never seen a cat and dog take to each other like this is the twenty years I have had cats with dogs. Thanks for all the socializing and great care she has received.

The wellness exam went great! My Vet said she is a beauty and very healthy. There is no doubt that she is part of the family already. We love her!

Thanks for everything!

Karla Lee-Estrada