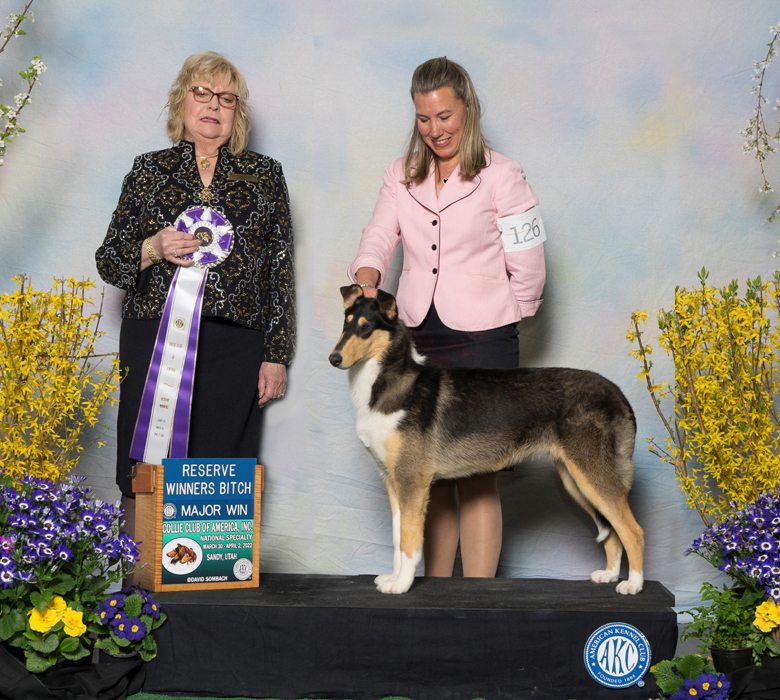 CCA 2022 RESERVE WINNERS BITCH
Whelped: September 8, 2021
Eye Check: CEA/Hypoplasia
PRA: Normal/Non-Carrier (DNA)
Degenerative Myelopathy: Clear/Non-Carrier (DNA)
MDR1 Drug Sensitivity: M/M (DNA)
Gray Collie Syndrome: Normal/Non-Carrier (DNA)
Hyperuricosuria: Normal/Non-Carrier (DNA)
DMS: Aabb (Low Risk ~ DNA)
Cardiac: Puppy Screened Clear
OFA Elbow: Normal
OFA Hip: Excellent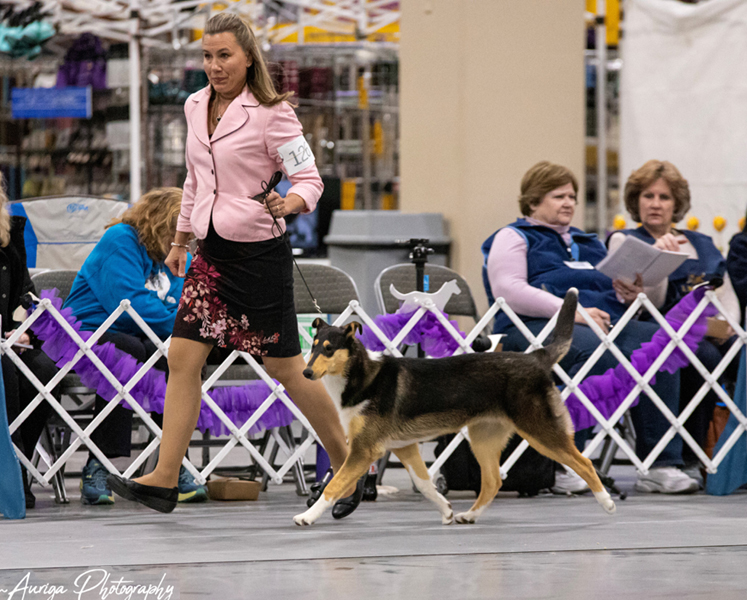 Alana's first show was at the 2022 Collie Club of America in Sandy, Utah. She won the huge Bred-By class and went on to win Reserve Winners Bitch under judge Robette Johns for her first major! Thank you for this special win.
We showed Alana at the Collie Club of Colorado, her first shows since CCA, and she won Winners Bitch for 5-point major under Mary Wells. The following day, under Carrie Lenhart, she won Winners Bitch, Best of Winners, Best Opposite Sex for another 5-point major.
For Alana's second set of shows we headed to the Texas and Oklahoma specialties in January 2023. Alana won a 4-point major under Krista Hansen to complete her championship! As a move-up, she won Best of Variety under Isabel Ososki and 3 Best Opposite Sexes under Retha Cable, Randy Sheets and Carrie Lenhart.

CH. WESTWOOD BLACKJACK


Countryview Rocket Man
CH. COUNTRYVIEW IN HIGH REGARD OFA
HIP Excellent (OFA)
CH. COUNTRYVIEW GIVE MY REGARDS, ROM
2010 CCA AWARD OF MERIT
CH. COUNTRYVIEW BACK TO BROADWAY
CH COUNTRYVIEW RASED GRATITUDE
Countryview Midnight Madness
CH. SEALORE'S SHORE LEAVE
Rased In The Moment
CH. COUNTRYVIEW CLASSICAL
GCH. WESTWOOD ALADDIN
2009 CCA BEST OPP TO BREED
CH. TWIN CITY SECRET AMBITION
GCH. WESTWOOD FAIRYTALE ROM
Countryview I'll Take Manhatten
CH CAMLOCH'S NIGHT TO REMEMBER
CH COUNTRYVIEW RASED GRATITUDE

CH. DEA HAVEN'S KEEPING THE MEMORY
CH. WESTWOOD FLYBY
GCH. WESTWOOD ALADDIN
2009 CCA BEST OPP TO BREED
CH. TWIN CITY SECRET AMBITION
GCH. WESTWOOD FAIRYTALE ROM
CH. CHEVIOT GALLANT GIRL
CH. CHEVIOT SOLLIS GALLANT BOY
Cheviot Exquisite
GCH. DEA HAVEN'S DREAM TIME
GCHB. DEA HAVEN'S MEMORY MAKER
CH. FANTASY'S BRONZE TALISMAN ROM
HIP Excellent (OFA)
CH. DEA HAVEN'S MARNUS ON STAGE
CH. DEA HAVEN'S TO CATCH A DREAM ROM
CH. SOUTHLAND'S BOWEN ISLAND ROM
CH. DEA HAVEN'S MARNUS ON STAGE


CH. SILHOUETTE'S SCENT OF A ROSE, OFA

DM Clear (DNA)
DMS aabb (DNA)
MDR1 M/M (DNA)
PRA Clear (DNA)
ELBOW Normal (OFA)
HIP Good (OFA)



GCHB. FANTASY'S SUNSHINE SUPERMAN, OFA
2016 CCA BEST OF VARIETY
2017 CCA AWARD OF MERIT
2022 CCA BEST OPP to VARIETY
HIP Good (OFA)
CH. COUNTRYVIEW GIVE MY REGARDS, ROM
2010 CCA AWARD OF MERIT
CH. COUNTRYVIEW BACK TO BROADWAY
Countryview Trade Secrets
Countryview Party All Night
CH. COUNTRYVIEW RASED GRATITUDE
CH. COUNTRYVIEW CAMOUFLAGE, ROM
Rased Brilliant Starr
CH. BELLVUE'S KARMEL KISS, ROM
GCH. FANTASY'S RISING DRAGON, ROM
HIP Excellent (OFA)
CH. FLEUR-DE-LIS SECRET WEAPON, ROM
CH. FANTASY'S KEY TO MY HEART, ROM
CH. FANTASY'S ABSOLUTE GOLD, ROM
CH. FANTASY'S BRONZE SENSATION, ROM
CH. FANTASY'S GALLIANO


CH. SILHOUETTE'S OREO

CH. TAVERN HILL LIMERICK CELTIC CLASSIC
GCHB. WYNDLAIR POINT GIVEN
Wyndlair Avalanche ROM
GCH. TWIN CITY CLEOPATRA
Tavern Hill It's All About Me
CH. QUINCY MORDECAI
CH. TAVERN HILL LIMERICK TIE DYE
CH. SILHOUETTE'S SOME LIKE IT HOT, ROM
HIP Good (OFA)
GCHB. FANTASY'S SUNSHINE SUPERMAN
HIP Good (OFA)
CH. COUNTRYVIEW GIVE MY REGARDS, ROM
CH. BELLVUE'S KARMEL KISS, ROM
GCH. SASSY'S PROMISES OF FANTASY, ROM
GCH. FANTASY'S RISING DRAGON, ROM
HIP Excellent (OFA)
CH. FANTASY'S THE KEY TO LIFE